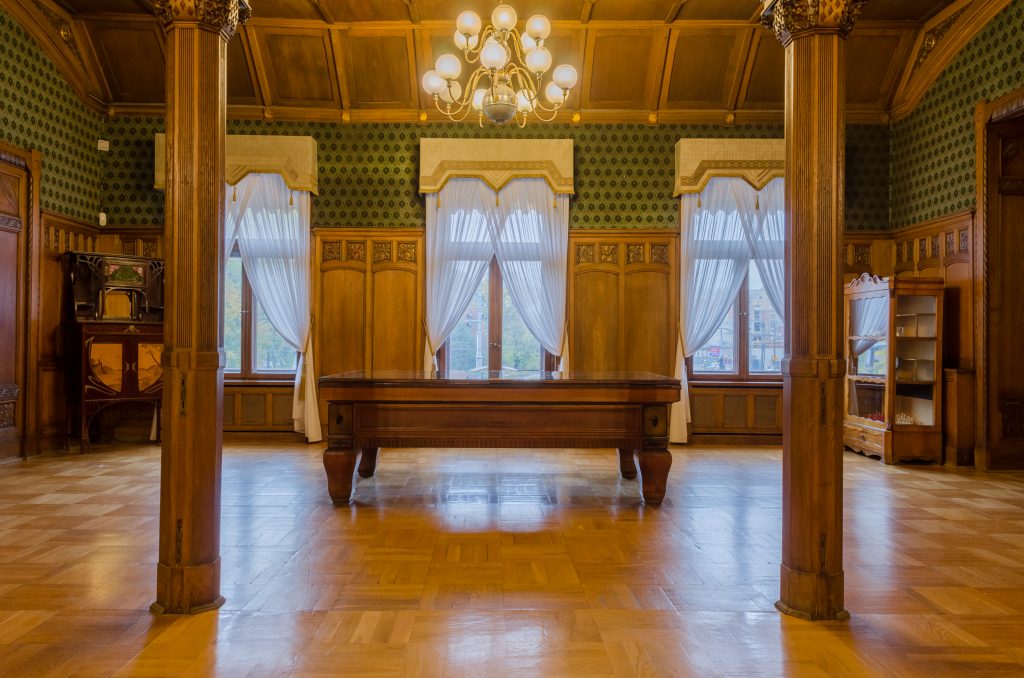 Arcade Room
Men's room plus corridor
There are two doors that lead us from the Large Dining Room to the interiors furnished in compliance with the fashion trends prevailing in late 19th century that prescribed the possession of a smoking room and rooms for different types of parlour games. In its immediate vicinity, there is a card room, often called the pipe room or just smoking room. It closes the representative part of the Palace, at the same time leading us into its private apartments.
The intended use of this room is testified, among other things, by the decorative elements on the column heads of the arcade that present the symbols of the four card suits, as well as such elements of furnishings as a chessboard table or a great billiard table, adjusted to the game of carom, which was popular in the 19th century. The walls are panelled with oak wainscoting, whose panels are lined with elegant fabric. The wainscoting, fragments of the vaulting and the door are decorated with a border with Art Nouveau pattern of plants and flowers, gold and silver plated.
From the card room one can move towards a long corridor, which originally led to the winter garden. This part of the Palace has a tripartite arrangement, in which a long, narrow corridor with five skylights separates the rooms of the former residential apartment situated on its both sides. The walls are panelled with a high wainscoting, painted ivory, in their upper part divided by pilasters decorated at the level of ceiling with a concave Art Nouveau ornament. On the walls, we can see paintings from the collection of the Museum of the City of Łódź.
Together with the smoking room and the billiard room the spaces of the residential apartment stretching along Zachodnia Street make up the exhibition entitled 'The Pantheon of Great Citizens of Łódź'. The exhibition, arranged in the form of studies, presents the figures of distinguished citizens of Łódź: Arthur Rubinstein, Alexandre Tansman, Jerzy Kosiński, Karl Dedecius, Julian Tuwim and Władysław Reymont.