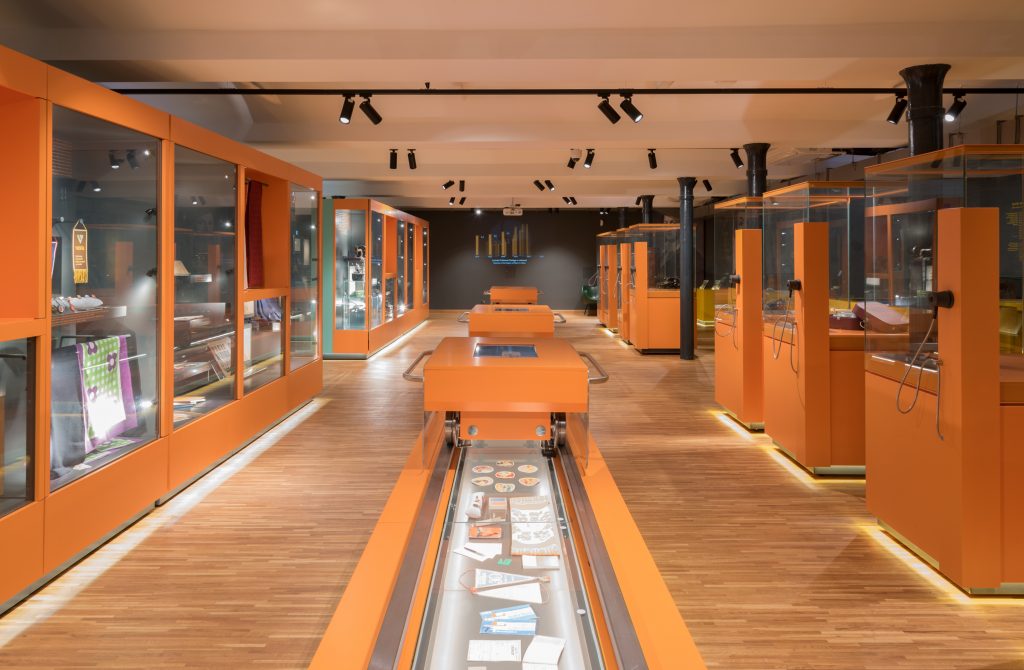 01 October 2020
Łódź in Europe. Europe in Łódź. The promised land then and now
The new historical exhibition at the Museum of the City of Łódź essentially covers the 1820-1989 period. It presents the biography of the city which, in an unprecedented way on a global scale, has advanced from a small local craft and agricultural centre to the group of great European metropolises in just a few decades. The exhibition, enriched with numerous multimedia and tactile objects, provides a look at the history of Łódź from four different but mutually complementary perspectives, each of them distinguished by colour. Its main axis is the history of the metropolis, but it is worth learning about other aspects of the city's life and discovering its richness. Only then the network of connections and correlations that build this complex urban machinery will be revealed. Thus, an exhibition with a chronological and problematic arrangement can be discovered in many ways: getting to know fascinating aspects related to the Metropolis, Progress, People or Success, walking along designated zones, or wandering between them according to the chronology of events, checking how the penetration of these threads influenced the shape of the city and changed both its look and position in the world. Through historic objects, photos, tactile models, games, applications and recordings, the exhibition will allow you to understand the past of Łódź, get to know the behind-the-scenes of its phenomenal development, and discover its potential.
Investor: Miasto Łódź
Project Operator: Muzeum Miasta Łodzi
Acting Director of the Museum of the City of Łódź: Sławomir Mikołajczyk
Curators: Anna Łagodzińska-Pietras, dr Marcin Szymański
Cooperation: Barbara Kurowska, Maja Jakóbczyk, Natalia Scegielniak-Glica, Tomasz Kochelski, Ewa Monwid-Olechnowicz, dr Łukasz Grzejszczak, Sebastian Glica, Adam Klimczak, Vojislav Radojičić, Matylda Cygan, Maciej Oleszczak, Katarzyna Sawicka, Piotr Kowalski, Marta Szlauderbach, Andrzej Fidrysiak, Bożena Szafrańska, Małgorzata Nadachewicz, Zdzisław Piotrowski, Marcin Słonicki, Piotr Nowicki, Ryszard Kurgan, Jacek Borchun, Wiktor Dzwoniarek, Jarosław Barański, Marcin Sadłowski
Conservation care: Barbara Kaszyńska, Agnieszka Szygendowska
Accesibility coordination: Paulina Długosz
Realization of the exhibition: Group AV Sp z o.o.  Agata Sitko, Tomasz Zalewski, Dominik Budyn, Grzegorz Rekowski
The curators would like to dedicate the exhibition to the Museum's Employees who have undertaken numerous efforts over the years to materialize this idea: Małgorzata Laurentowicz-Granas, Mirosław Jaskulski and Marek Budziarek, PhD.