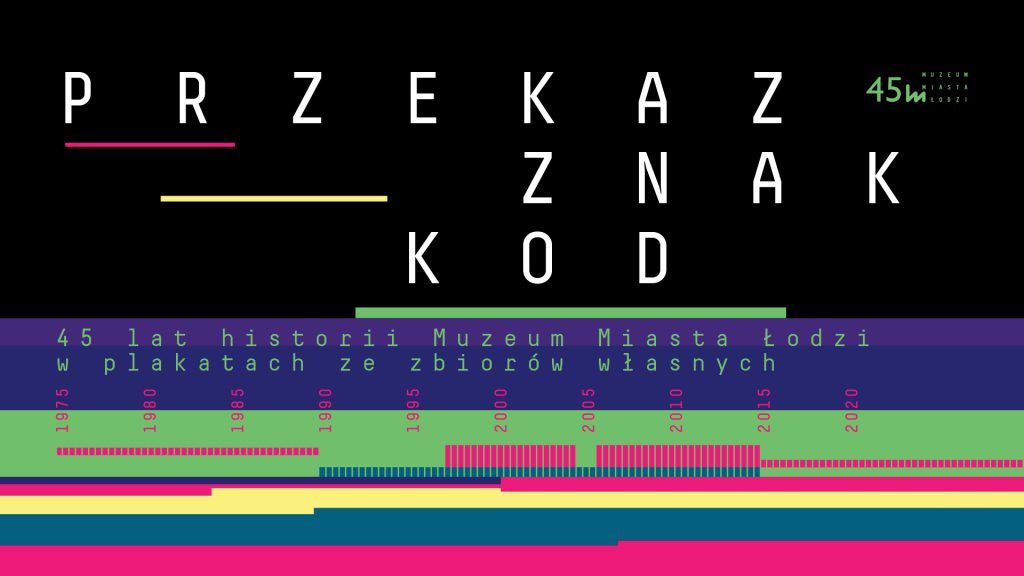 MESSAGE – SIGN – CODE | 45 years of history of the Museum of City of Łódź in posters from own collection
February 2, 2021 - June 6, 2021

'Poster is one of publishers, perhaps a perfect one. There is no such sphere of life that one could not reflect in an art of poster'
Paweł Udorowiecki (1944-2002). Graphic designer, author of numerous posters promoting exhibitions and events organised in the Museum of History of City of Łódź. Designer of the first logotype of the Museum.
45 years of history of the Museum of City of Łódź is not only a nearly half century of offering an insight to historic rooms of the palace the beauty of which made our institution famous to further generations of Łódź' inhabitants. As of 1975 the unique indoors of the Izrael Poznański Palace held hundreds of temporal, individual and group exhibitions, concerts, conferences and meetings. This exposition is a specific retrospective of various events arranged in that period seized in posters that were promoting them.
On the one hand poster as a central medium of this exhibition allows tracing the cultural activity of the Museum. On the other hand the presented selection of graphic projects encourages to observe the variety of ways that the artistic events were interpreted by acclaimed artists. Their original graphic designs are very often pieces of art. What is no less important, this exhibition encapsulates a timeframe in which one may trace a historic and aesthetic evolution of posters at the brink of 20th and 21st century.
The group of artists, long time co-operators, whose posters starting from 1975 were ordered by Museum of the City of Łódź, was composed of Jakub Erol, Ryszard Kuba Grzybowski, Paweł Udorowiecki, Lex Drewiński, Tadeusz Piechura, Jerzy Treliński, Janusz Wiktorowski, Stanisław Łabęcki and Bogusław Balicki, Ewa Stanisławska-Balicka, Krzysztof Tyczkowski, Sławomir Iwański, Zbigniew Zieliński, Tomasz Budziarek and many others. A vast majority of those designers belonged to the so called Łódź School of Poster – an aesthetic phenomenon having its roots in the philosophy of art formed at the brink of 1920s and 1930s by Władysław Strzemiński.
This exposition serves as an visual time machine using which we are bringing viewers to the world of art for which the indoors of the Museum serves for 45 years as one of the most important exhibition spaces in the city. Our exposition of posters is a journey into the world of artists whose works were exhibited in the Museum. It is also an evidence of changes that took place in artistic and informative narration encouraging viewers to visit the Museum. Most of all, chronologically arranged selection of graphic designs inspire to take a look at the evolution of visual means engaged by artists to communicate with viewers. Reflections that one may have from this last observation reveals a lot about artists and their works, but they are telling even more about an evolution of taste and aesthetic needs of art receivers.
Curators of an exhibition: Adam Klimczak, Bruno Kamiński