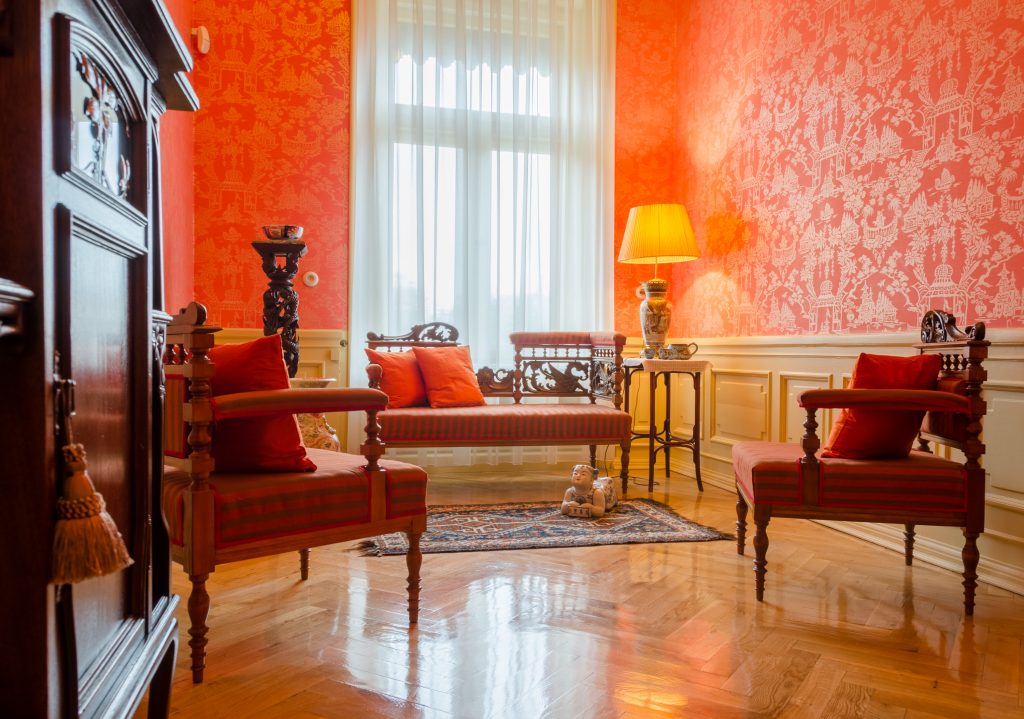 29 August 2018
Oriental room
'Chinese-style or Japanese-style… – the Orientalia of the Poznański family' is a permanent exhibition, which attempts to depict the collection of Orientalia of Łódź, by the example of the Poznański family. The works were conducted on the basis of a source query, sparse iconographic material and individual objects. The exhibits used in the interior arrangement are part of the collection of the Museum of the City of Łódź and many of them are exhibited for the first time.

A vast majority of the representatives of first-generation bourgeoisie did not show any interest in art, but together with the increase in their fortunes, their aspirations as collectors started to grow as well. Not only did the collected works of art decorate the interiors of the ever more stately residences, but they also added social prestige and splendour to the whole house, thus assimilating models of aristocratic and court culture. Wealthy citizens of Łódź, who above all kept up with the European fashion, furnished oriental rooms, including Chinese-style, Japanese-style and Moresque-style ones. It allowed them to combine in their decorations the interfluent lower middle-class and bourgeois influences that tried to assimilate aristocratic patterns.

In many wealthy homes, the desired decorative objects included colourful Ukiyo-e wood engravings, furniture, small items made of japan, pottery, bronze products and fabrics, among which oriental carpets (Persian, Anatolian and Caucasian ones) dominated. This interest in everything exotic had an additional sociological aspect, for in the reality of a factory city it provided a kind of escapism from the bleak everyday life. The home of an affluent 'Lodzermensch' became one of the areas of self-presentation, in which legitimization of fortune was accomplished. It helped to classify him as a member of the financial and cultural elite that followed also the newest fashion trends. Among the most well-known collections, accumulated in consonance with their owners' own aesthetic sensibility and individual interests, we can enumerate the ones that belonged to Henryk Karol Grohman, Juliusz Teodor Heinzl, baron von Hohenfels, as well as to Karol Wilhelm II Scheibler and his wife, Anna Julia Melania née Grohman. What's more, there can be found single specimens of oriental art or smaller collections that were not treated as separate collections but as an element of interior design. Those belonged to, among others, Alfred Biedermann and his wife, Marta Anna von Behrens, as well as to Laura Eliza Kindermann and Gustaw Geyer.

The Orientalia accumulated by the Poznański family, in particular by Ignacy and his wife Bela née Tykociner, who lived in the mansion at the intersection of Ogrodowa and Stodolniana (currently Ogrodowa) Streets, as well as his younger brother Karol and his wife Felicja née Osser, include the aforementioned smaller collections and individual specimens of oriental art. Among them, especially worthy of our attention are, i.a.: Chinese and Japanese pottery and fabrics (embroidered silk and oriental carpets).